"You guys tell me about him. Nobody knows much, do they? That's good. That's why we got him when we got him!" said Trevor Timmins on the draft floor, immediately after the pick that saw the Canadiens take Lukas Vejdemo in the third round. Timmins continued his thought, proclaiming it had been difficult to scout Vejdemo, citing the fact that he hadn't played in any of the tournaments.
Is he a steal? Could he be a hidden gem from the draft, and for the Canadiens' future?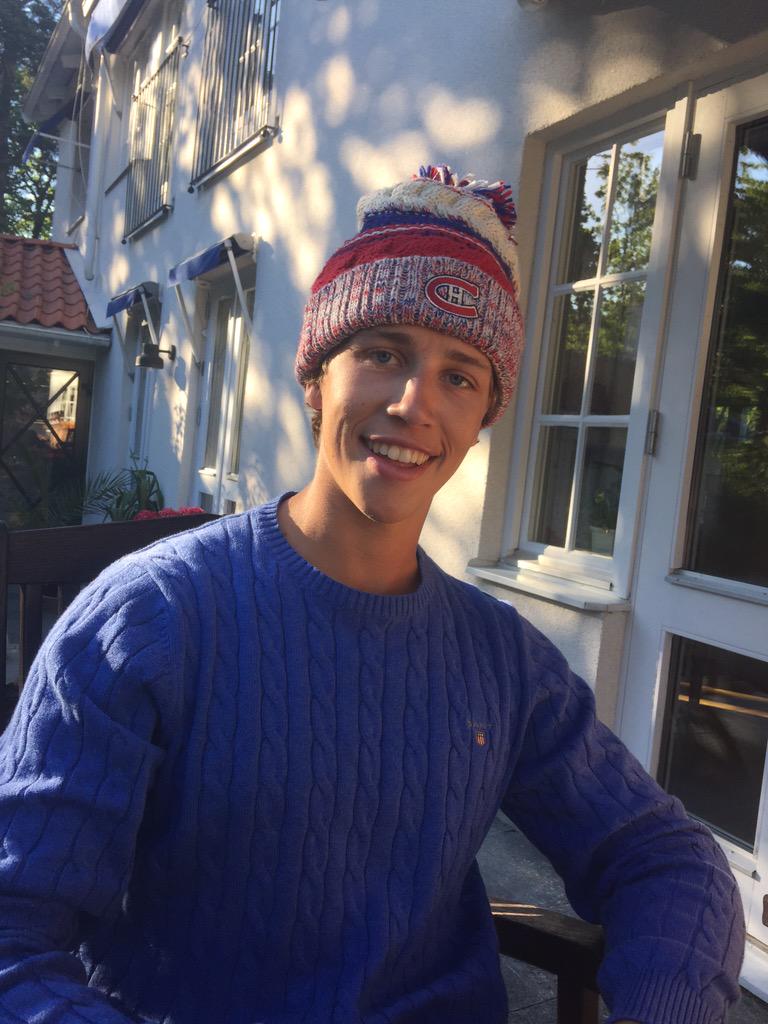 Photo credit: @vejde96
Somewhere south of Stockholm, Lukas had been following the draft online, and was by his own admission surprised that he was picked so early. He found his Canadiens hat and tweeted out a picture of himself wearing it, proclaiming how happy he was to be a part of the Canadiens, and excited for being picked by a true "hockey town."
Interestingly there is more information in English than Swedish about Vejdemo, clearly showing the higher interest for prospects in Canada than Sweden, and also possibly explaining why he flew under the radar until the draft.
So, who is this young guy? With today's internet and scouting reports from near and far, it is surprising that we knew so little about a pick from Sweden taken in the third round.
His relative obscurity can be explained; last year was riddled with injury and illness for Vejdemo. Just before the season started he was in a traffic accident and broke six ribs, and took almost two months to recover. One game after his recovery he caught mononucleosis, and was sidelined for another couple of weeks.
Votes
In his first chance to crack the T25U25, the panel ranked him quite favourably, with most giving him a spot in the top 25. There were three votes outside the top 25, with the lowest ranking placing him at #30, whereas the best rank he received was all the way up at 14th overall.
Despite the injuries and illness, he did manage to play in three SHL games, with an average ice time of 6:29. In one of these he had 12:33 in ice time; so he really only had meaningful minutes in one game.
Djurgården decided to send him back to the juniors after the short stint in SHL, and the juniors went on to win the Junior Championship, beating Frölunda in the final 3-1. Vejdemo scored the first goal of the final, and was on the ice for Frölunda's only goal, as well as for the last goal of the game, an empty-net marker with 29 seconds left to play.
The one Swedish site with pre-draft rankings had him as the 14th Swede to be selected, commenting: "In my mind the U20 league's best player this year. Big, strong – even with injury and illness – and great technique for his size. He lives mostly on his good eye for the game, and good defensive play, a possible third-line centre." In the draft he went as the 12th Swede, and Montreal was clearly happy he was available.
One thing the report didn't mention was that his skating is much better than other players in the U20 league, which is something that really stood out from the few videos available of Vejdemo's highlights.
Strengths
His strengths, according to Christer Rockström, Montreal's European scout, are: "good skating, a good eye for the game, the right approach." He continues with, "The road to get drafted is to focus on where you are, and not jump around between clubs to find a short cut. You get the ice time you deserve."
Listed at 6'2" and 194 lbs, his skating and size come in handy when developing plays, and creating puck possession. Vejdemo may have seemed like a curious pick, but it's an informed one with some great upside. He also has a high hockey IQ, which can't really be taught.
Weaknesses
The one thing that stands out from videos, and from comments by Vejdemo himself, is that he really needs to improve his shot, being his biggest weakness by far. This is something that should be more evident this year when he tries to crack the main Djurgården roster, as well as getting to play his first U-20 national game during the trip to the USA in early August.
As the season goes on his shot will hopefully improve, and working with different coaches will probably help as well. His recent bout of health issues may come off as a weakness, but seeing as how they were fairly random, it's not a particularly big concern.
Projection
Must Reads
The aim for Vejdemo this year is to earn a roster spot with Djurgården's main team, and to become a factor in the U-20 National team. There is no reason he shouldn't be a factor in the U20 and hopefully this will be obvious in the world junior championship in December.
To make Djurgården might be a little trickier, but having been up last year for a few games he should know what it takes to achieve that goal as well. Djurgården is a classic team in Swedish hockey (most championships to date), but it has struggled with finances after having spent two years in the second division Allsvenskan. Last year they finished ninth and lost the wild card playoff to reach the quarterfinal. Vejdemo should be able to crack that line-up, which should make him an interesting prospect to follow.
As for the NHL, Vejdemo projects on the high end of the spectrum as a possible top-six centre, although we'd be best to temper our expectations. If he does manage to ever make the Canadiens, it's conceivable he ends up in a third line role, adding offense whilst providing reliable defensive coverage. He'll continue his development in Sweden for the foreseeable future, as he's still under contract with Djurgården for another two seasons.