The 2013-14 Hamilton Bulldogs have been a very inconsistent squad. For a stretch they looked like the best team in the AHL, and in other stretches looked like an ECHL club that has no place in the league. With twelve games left to play in the season Hamilton sits nine points behind 8th place Rochester, with Charlotte, Oklahoma City, Utica and Lake Erie in front of them. Out of their remaining twelve games only two of them are against the teams battling for the 8th spot.
First up is a four game road trip in Texas, alternating between playing the Texas Stars and the San Antonio Rampage, which includes a stretch of three games in three nights. The Stars are currently leading the Western Conference and have locked up their playoff spot, while the Rampage are one of the few teams behind Hamilton in the standings. The Stars boast three of the AHL's top 20 goal scorers in Travis Morin, Colton Sceviour and rookie Curtis McKenzie, luckily for Hamilton Sceviour is currently called up to Dallas alongside 54 point player Chris Muller. The season series between the two is even at a game apiece, with Hamilton owning a 5-1 win and Texas holding a 3-2 overtime victory. With Texas already in the playoffs, the Bulldogs must capitalize on the chance to catch a coasting team off guard and pick up point, or they will likely see their playoff chances evaporate.
San Antonio is all but eliminated from the AHL playoff chase, but isn't a team the 'Dogs can afford to take lightly. The Rampage are without several of their young stars, including Quinton Howden and Vincent Trocheck, who were two of their top offensive producers. Goalies Scott Clemmensen and Michael Houser make up a mediocre duo, which plays right into the Bulldogs hands. Anything less than two wins against a poor Rampage side should be considered a disappointment.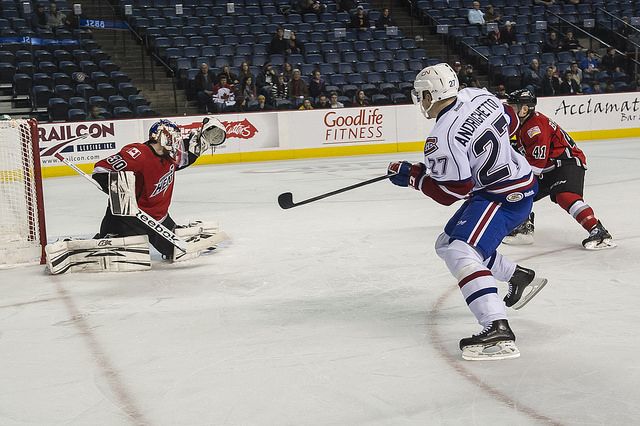 Photo credit: Hamilton Bulldogs
Following the Texas swing is a murderers row of games with Oklahoma City, Grand Rapids, and St. John's all looming large on the Bulldogs schedule. The game against OKC is the big one during that stretch, as the Barons are also battling for that 8th place spot and a playoff birth. Grand Rapids and St. John's are both among the top teams in their respective conferences. with the Griffins sitting in second in the West and St. John's in 4th out East. Unfortunately this is where I believe Hamilton's playoff chase will reach its end. Grand Rapids and St. John's boast solid scoring all around, with the Griffins being led by Teemu Pulkkinen (52 points) and Adam Almquist (46 points). The IceCaps are led by Andrew Gordon, Kael Mouillierat and Jason Jaffary (49 points each). In addition to a solid crop of scoring forwards both sides have stellar goaltending. Grand Rapids features Petr Mrazerk (19-6-1 .923 sv%) and Thomas McCollum (22-11-3 .922 sv%), whereas St. John's benefits from Michael Hutchinson (15-5-1 .923 sv%) and Eddie Pasqualie (17-13-1 .920 sv%). Adding to the difficulty of this trip is that the all the games are played on back-to-back nights. Needless to say Dustin Tokarski, Robert Mayer and Devan Dubnyk are going to have to be in top form.
The Bulldogs have a tough schedule ahead, but if they've proven one thing this season, their biggest challenge is themselves. The Bulldogs must overcome their consistency issues in order to win key games. The only consistent part of this season has been Dustin Tokarski giving Hamilton a chance to win every single night, but he can't singlehandedly secure wins every night with such a compressed schedule, meaning Dubnyk and Mayer will have to step their game up. The team must also find it's scoring touch throughout the lineup. Outside of rookie sensation Sven Andrighetto, Michael Blunden and Martin St. Pierre no one else on the team has produced more than 30 points. Part of this may be attributed to questionable lineup choices by coach Sylvain Lefebvre, but players must also take responsibility. The most confusing move has been switching Andrighetto to centre, while scratching Patrick Holland & playing ECHL call up Jordan Owens. Holland played centre for a good chunk of his rookie season, which leaves me asking why he isn't playing there instead of the winger Andrighetto. Or even use Louis Leblanc, who has consistently been on the short end of the stick when it comes to linemates and ice time, as he played with Maxime Macenauer on a near nightly basis all season.
Photo credit: Hamilton Bulldogs
The defensive core has taken a beating, with the call up of Jarred Tinordi breaking up the tough minutes pairing he formed with Greg Pateryn. Nathan Beaulieu has had to shoulder that responsibility alongside Pateryn now, however the addition of Davis Drewiske gave the Bulldogs a much needed veteran presence for a potential run at the 8th spot. Also in the Bulldogs favor is the potential addition of prospects such as Jacob de la Rose, whose season in Sweden is over. Another possible addition would be young blueliner Mac Bennett from Michigan. Bennett can help add a solid experienced presence in the defensive pairings and has played alongside Pateryn in the past.  Another player who could join Hamilton if he is offered a contract is Brady Vail should the Windsor Spitfires not overcome their two games to none deficit against the London Knights.
A main concern for the Bulldogs is the lack of team discipline in recent stretches, often during special teams situations. From the beginning of the season Hamilton struggled with penalties as well as penalty killing consistency, which has burned them several times in close games. Even worse is that many of these penalties come with Hamilton on the powerplay, negating their chances to control games. The powerplay must become consistent down the stretch, as several 0 for 20 streaks have occurred this season, and coincide with several of the Bulldogs losing streaks.
So the question looms...can they do it? There is a lot that has to go right for Hamilton to make the playoffs including winning nearly every single game, the teams in front of them losing, and of course they have to stay healthy. Nine points in twelve games is a tall task and given the Bulldogs recent streak that saw them blown out in three straight games, I don't believe it's possible. Tokarski and company can keep the Bulldogs in each game but unless the rest of the offense steps up, Hamilton is likely going to be out of the Calder Cup race for the third straight season. Another question arises if Hamilton misses the playoffs as well. Should the Canadiens remain patient with Sylvain Lefebvre and stick to the plan of developing him as a coach, or should they start over again with yet another candidate?