(2)
Patrice Bergeron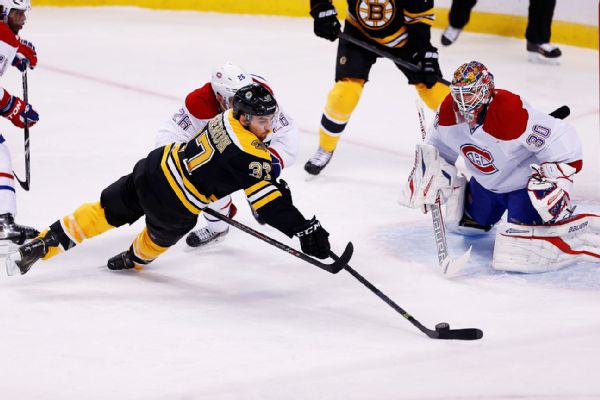 Everyone loves Bergeron.
Ask most Habs fans and they'll confirm, Patrice Bergeron is the epitome of a great hockey player. Not only does he not indulge into the typical Bruins goon squad philosophy, but he is constantly a thorn in the Habs side.
In 47 regular games against the Canadiens, Patrice Bergeron has put up 40 points, and what seemed like close to a 90% faceoff win rate.
However the real reason Bergeron is considered a Habs killer is that he did a borderline-perfect job of shutting down our best line in almost every single one of his 1,182 shifts against the Canadiens.
VS
(3) Ray Bourque
A perfect juxtaposition of scum and skill.
You may not know this, but the famous member of the Colorado Avalanche actually spent the majority of his career with the Bruins. Although he never achieved the ultimate goal of wining the cup with the Bruins, he did manage to frustrate the hell out of arguably the best goalie in the history of the league. Ask Patirck Roy what he thinks of Raymond Bourque, and he's likely to succumb to PBSD (Post-Bourque stress disorder).
In 76 games against the Canadiens, the all-star d-man put up a ridiculous 65 points to go along with his stellar defensive play.
Don't let the fact that he had to demand a trade to Colorado to ensure his Stanley Cup fool you, he was definitely a long time Habs killer.