Surely, there exists a contingent of hockey fans that wants me to shut up right away. Not all are thrilled to sit through the ceremonies that come with watching the Montreal Canadiens, and some fans may not even like the idea of jersey retirements at all. I, on the other hand, particularly enjoy remembrance of players and times where the Canadiens were absolutely dominant, for obvious personal reasons. Guy Lapointe will provide such an opportunity on November 8th, as his number five sweater will join that of Bernie Geoffrion in the rafters.
Lapointe also joins Larry Robinson and Serge Savard, the other two members of the Canadiens Big Three on defense in the 70's. While that trio was one of the most impressive you could ask to have, there was once a Canadiens 'big three' of the forward variety that went by a different moniker; The Punch Line. Toe Blake is the only member of that group that has yet to see his sweater honoured by the Canadiens, and I feel his case is illuminated by the upcoming ceremony for Lapointe.
Please understand that I don't want to take anything at all away from Guy Lapointe. I believe Pointu is getting due recognition for an amazing career and I am completely on board with what they're doing. He still holds the single-season record for goals by a Habs defenseman, and won six Stanley cups with the club; so this one is a total no-brainer, especially seeing as the number has already been taken out of circulation.
"For four years they absolutely dominated the NHL, winning it all twice, and even finishing as the top three scorers (Lach, Richard, Blake) in the NHL for the 1944-45 season"
But who could forget that iconic trio of the mid-to -late 1940's? Toe Blake, Elmer Lach, Maurice Richard. I would be quite surprised if most Habs fans couldn't correctly rattle off those names, likely in that exact order, if asked about the Punch Line. As Habs' history goes, this trio would likely be the topic for your first unit of your very first class were it a school subject. For four years they absolutely dominated the NHL, winning it all twice, and even finishing as the top three scorers in the NHL for the 1944-45 season.
Of course, The Punch line days were towards the end of Toe Blake's career. He started out in the NHL with the Montreal Maroons, and never got much of a shot, although they did include him on their 1935 Stanley cup despite appearing in eight games. By 1936, Blake was a full-time member of the Canadiens, and one of the best players in the league. The 1938-39 season was his personal best pre-punch line year, as he took home the Hart Trophy and the NHL scoring title.
As a veteran leader and the team's best player, it made perfect sense for him to be assigned two young linemates with plenty of skill between them. Elmer Lach was a tough young centre and Maurice Richard was still a raw and often injured talent on the other wing. I've heard the argument that Blake was mostly a beneficiary of having such great linemates, but that's a pretty unfair way to look at it. He wasn't along for a ride with those two, he was the leader of the trio.
gerrysportscards.com
In the years that the Punch Line was together, he never registered fewer than 20 goals and 20 assists. He scored the Stanley Cup-winning goal in both years that they claimed the prize, and even took the Lady Bing in 1946 after registering a mere two penalty minutes all season. It's very important not to overlook the impact that his veteran presence had on two young stars finding their way in the NHL. Would Maurice Richard have been able to score 50 in 50 without Toe Blake as a linemate? That might be a stretch, but I've no doubt that he was a major contributor to that feat.
When injury forced his retirement, Blake quickly entered the coaching world within the Canadiens' junior system. He quickly rose through the ranks, and took over for Dick Irvin following the infamous 'Richard Riot' season. What they did after he took over was nothing short of astonishing. Five straight Stanley cups; an NHL record that will never be touched. Blake was at the helm of what was arguably the greatest dynasty in professional sports history.
Therein lies the most common argument against retiring Blake's number 6; the fact that his most impressive years with the club came behind the bench.
With a stunning eight Stanley Cups as a coach, The Old Lamplighter held Lord Stanley's CUP far more often in a suit than he did in the number six sweater. For some, this is enough to argue that his number should not be retired, as one does not wear a jersey behind the bench.
I understand the argument that you cannot retire a jersey in honour of a coach. The problem here is that a stunning career behind the bench somewhat overshadows a great playing career, which in itself is worthy of recognition. When you consider that he returned to the Canadiens to coach some players he used to play with, one could even make the argument that part of his coaching greatness lies in the fact that it was almost an extension of his playing days. That's a pretty tough argument to make in relation to a jersey retirement, but the point is he was a great player before he was a great coach.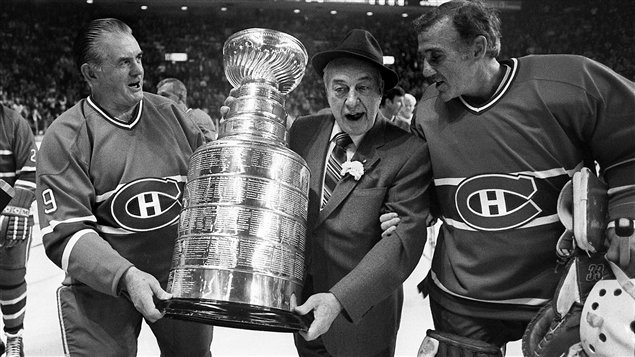 Ian Barret
Whether a player's jersey deserves to be retired is one of the hardest hockey questions to answer at times. It's not always easy to give a yes or no answer, and I think Toe Blake stands as an example that would be quite divisive, were a large sample of lifelong Habs fans polled on the subject. Toronto, for example, doesn't even actually retire jerseys, their system rather sees numbers honoured but not removed from circulation, making it easier to show respect for their greats without having to lose an available number.
I know I'd never be amenable to another Canadiens player wearing The Rocket's number, but other numbers are harder to be so sure about. It bothered me when Scott Gomez wore the number 11, but I don't have that problem with Brendan Gallagher. I didn't have an issue with Jaroslav Spacek wearing number 6, but I sure became indignant when it was donned by Douglas Murray. It seems that my personal feelings on the availability of iconic jersey numbers can sometimes be swayed depending on who is currently wearing it.
Personally, I think that the Canadiens should retire Toe Blake's jersey. To me, there is no more iconic trio in the history of this team than the Punch Line, and it makes logical sense to have that group together again in the rafters. While his coaching career was nothing short of legendary, I firmly believe that he deserves the same level of recognition for what he did on the ice. It's more than points, trophies or championships; it's the role that he played in bringing those early Canadiens teams to greatness. He's one of the original 'Glorieux,' and I believe his sweater belongs in the Bell Centre rafters.
Would you support a Toe Blake jersey retirement? Would you rather see something akin to the Toronto Maple Leafs system of honouring sweater numbers, rather than removing them from circulation? Please have your say in the comment section.