The news came out on Wednesday evening that David Desharnais was officially named as the Habs' candidate for the Bill Masterton Memorial trophy. Many people expressed confusion, or even derision towards the Canadiens' nominee.
'What has David done to deserve this honour? What about Markov? He bounced back pretty well from an injury, and is currently the Habs ironman. That's the type of performance that wins a Masterton!'
That train of thought is, unfortunately, quite true. In recent years the Masterton trophy has gone to the player who has recovered from major injuries, or a life-threatening illness.
There is absolutely no argument against Josh Harding's Masterton win last year, as he clearly showed the perseverance that exemplifies someone dedicated to hockey.
Max Pacioretty took home the award in the previous year, again due to his bounce back after the horrific injury sustained when Zdeno Chara drove him into the stanchion.
Even Ian Laperriere's Masterton award in 2010 was justifiable. Despite not playing any more games after one of his many concussions, Laperriere continued to support his club in several other capacities, i.e., he was a great teammate, and despite not being able to help on the ice, he showed the sportsmanship that makes hockey great.
So, where does that leave David Desharnais?
For one, he won't win the award. The votes will go to a player like Dominic Moore, Rich Peverly or Kris Letang. All three of them suffered major set backs, with Peverly and Letang having medical issues, and Moore having to cope with the loss of his wife.
All of them are worthy candidates, and every single vote cast for that group will be 100% justifiable. *Matt Stajan is another good candidate, and again I can't, nor would I, find any reasons to dismiss him as a possible winner. Same goes for Manny Malhotra, another player who bounced back from a terrible injury to continue his NHL career.
*(h/t to Cara for pointing out that Matt Stajan will not be the Flames Masterton candidate this year, Mark Giordano was Calgary's nominee.)
Essentially, they're all great candidates.
At a quick glance, Desharnais has absolutely no business among his group of peers. He did not sustain a horrible injury. He did not lose a close member of his family, nor did he suffer any career threatening illness.
Let's take a step back and look at the actual definition of the Masterton trophy:
The Bill Masterton Memorial Trophy is awarded annually to the National Hockey League player who best exemplifies the qualities of perseverance, sportsmanship, and dedication to hockey
We all know by now that Desharnais went undrafted, after a very successful four-year tenure in the QJMHL, that saw him put up 374 points in 262 games.
Despite putting up a plethora of points, Desharnais was left with few options. He was not offered an NHL or AHL contract, and had to try out for AHL teams.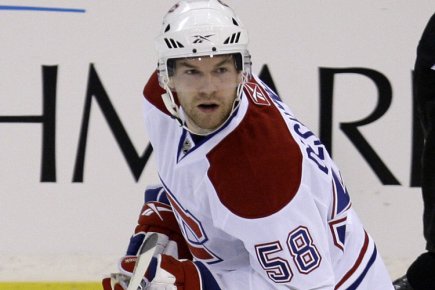 Photo credit: La Press
His next year was spent toiling away in the ECHL. He was undrafted, had no chance at an NHL contract, was incredibly undersized, and was playing in what can be considered the lowest rung of respectable professional hockey. Things were grim for the young man.
However he did not let it get to him. Desharnais put up 106 points in 68 games, and by doing so he suddenly emerged as a legitimate prospect in the Habs system.
After his successful ECHL season, he was offered a two year entry level contract by the Canadiens, and found himself playing with the Hamilton Bulldogs in the AHL.
His first season with the Bulldogs went better than anyone could predict. He amassed 27 goals and added 51 assists, finding himself at the top of the Bulldogs point race.
He split the next season between the Bulldogs and the Habs, putting up very respectable numbers in both leagues.
In 2011, Jacques Martin decided to pair the diminutive forward with two hard-nosed forwards, Erik Cole and Max Pacioretty. Cue the magic.
Not only did Desharnais excel, but Cole and Pacioretty both put up career highs in terms of numbers. Like it or not, the small forward was putting up points, and so was everyone around him.
The rest, as they say, is history.
Desharnais went through an incredibly tough road to make it to the NHL, and now he finds himself as a very important player for the Habs, one that actively contributes to their winning ways.
Sure, he's small. He's not overly flashy, and he is oft-maligned by everyone from fans & bloggers, to the mayor of Montreal. However when it comes down to it, Desharnais' career has been the epitome of perseverance, sportsmanship, & dedication to the sport of hockey.
And for that reason, I submit to you that he is not only a logical choice to be the Habs nominee for the Masterton, but an incredibly smart choice that definitely fits in all the official requirements to win the trophy.
I believe it's time to recognize the players who spent their entire career fighting to make it to the big show, and not necessarily limit the praise to those that have suffered a health related set-back.
Of course, that's not to take anything away from the players who sustained horrible injuries, or personal woes. They are worthy candidates as well, however we shouldn't react to Desharnais' nomination with a question mark, but rather with an endorsement of his successful and arduous journey to the NHL.
Congratulations on your nomination David, it's well deserved.