I made a bet with a friend who's a Sharks fan. Sharks win and he gets to choose the title of the T6M. Sharks lose and

P.K. Subban

becomes his display pic for Facebook.

That was a stupid bet.

Early Powerplay, that's good right? Nope immediate softy on Budaj. Down by one short handed. This is going to suck.

The rest of that powerplay was so frustrating I almost broke my laptop. Therrien can't even build a decent system when he has the advantage of more players than the other coach.

We're not even 5 minutes in to the game and it is painfully obvious that San Jose is a stronger possession team. And they have speed. Dump and chase is not going to work, so I'm praying for a miracle.

Raffi Torres

' face makes me angry. Am I alone on that?

I know the 5 on 3 was short, but it gave me some hope. Like maybe this is the TSN turning point? Optimism, albeit cautious.

Douglas Murray

is really bad. I bet Sharks fans make fun of us.

It would be nice to see some offensive zone pressure. I'm not asking for much, just maybe on the powerplay even?

Someone posted a picture of the Stanley cup in a comment section after we got  Vanek. I'm superstitious, and Liam Neeson is currently looking for you.

He will find you, and he will kill you.

OMG guys. Therrien has a new dump and chase system. They're now doing the dumping from their own zone. Such brilliance!

Hey Michel, how would you describe tonight's game?

Was anyone else happy to get out of the first down only one? I know I was. It sucks that I'm taking things like these as good signs nowadays.

If I ever gain entry to Don Cherry's house, I will burn all of his suits. Call it a public service.

You know what? This is going to sound crazy, but here goes. Maybe Therrien is purposely telling them to play with such disorganization and winning enough games to make the playoffs. Just maybe he's sandbagging and they'll come out hard in the playoffs?

Peter Budaj

is an excellent backup. But... Umm, he only gets two goals before he's pulled in a game where he is the reason it's not 5-0? Michel Therrien needs a lobotomy. Or, maybe he should find a new career.

I can't wait until he coaches someone else. I'm thinking Boston. How awesome would that be?

Michel,what do you say to the EOTP crowd, who believe your "system" is a complete mess?

Jarred Tinordi

unloading on Raffi Torres was quite satisfying. The hit on Eller wasn't so bad, but Torres is an unmitigated douchebag, so he should be punched any time he does something even remotely dirty.

3-0. Anyone else start thinking at this point that maybe this is that 9-0 blowout that sends Therrien packing? I know I did.

I forgot Larry Robinson coaches the Sharks D. That's depressing on many levels. Think he'd jump ship for the head coaching job with us? Make it happen Bergevin.

How many games do we have to wait before the Vanek factor kicks in? I know he needs time to adjust to the "system" but we could use some scoring.

All the creases belong to

Brendan Gallagher

.  If only a few if those crashes led to goals, Niemi wouldn't still have a SHUTOUT.

Writing this in real time so yes, that was an attempt to jinx it.

None of us writers will ever be able to explain to you how hard it is to not have like 30 bullet points on how Douglas Murray is terrible.

Yet that will never compare to how hard it is to try and comprehend why he's on the team, and actually plays.

Hey, Doug, why are you so slow?

Third period comeback, right?

HAHAHAHAHA. No. Emelin made sure we didn't get our hopes up.

So nobody who said the Vanek move still wouldn't help us was not wrong because he's coached by a buffoon
What wonders a new coach would bring to this team... I pray the team is not dismantled before it happens.
Lastly, Therrien...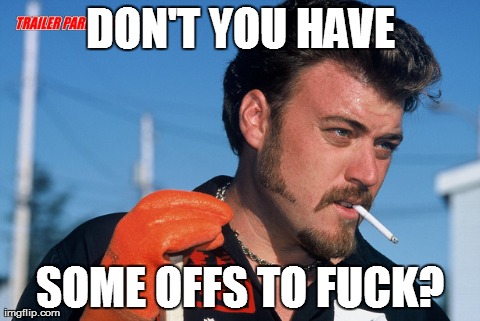 Your EOTP Three Stars of the night
3- Courtnall, for this third period gem he sent for Therrien:
2- Olivier M in response to Budaj being pulled: "Coaching change would create a little bit more of momentum though"
1- Kirn, for: "Every time I see Murray I wonder why I gave up my dream of playing in the NHL"