2014 Sochi Winter Olympics Medal Table

| | | | | | |
| --- | --- | --- | --- | --- | --- |
| Position | Country | | | | Total |
| 1 | Russia | 13 | 11 | 9 | 33 |
| 2 | | 11 | 5 | 10 | 26 |
| 3 | | 10 | 10 | 5 | 25 |
| 4 | United States | 9 | 7 | 12 | 28 |
| 5 | Netherlands | 8 | 7 | 9 | 24 |
| 6 | | 8 | 6 | 5 | 19 |
| 7 | Switzerland | 6 | 3 | 2 | 11 |
| 8 | | 5 | 0 | 1 | 6 |
| 9 | Austria | 4 | 8 | 5 | 17 |
| 10 | France | 4 | 4 | 7 | 15 |
Canadian medal recap:
Medal 1 - Snowboarding: Men's Slopestyle - Bronze
The first medal for Canada came from snowboarder Mark McMorris in the newest sport at the Winter Games, Slopestyle. The fact that he managed to medal at all is impressive. His first run scored a pitiful 33.75 , however he managed to improve his score by 55 points during his second run, putting out a 88.75 pts performance.
It's worth mentioning that McMorris fractured his ribs less than two weeks ago at the X-Games, and although he was looked upon as the gold medal favourite leading into the event, his bronze medal is a sign of effort and tenacity, that he earned a hundred times over.
Medals 2 & 3 - Freestyle skiing: 
Women's m
oguls - Gold & silver
Photo credit: Getty Images
The second and third medals won by Canadians was truly a great story. Justine Dufour-Lapointe managed to snag gold in the women's moguls, and her sister Chloe won silver. Justine finished with a score of 22.44, and Chloe managed to put up a 21.66. Defending champion Kearney of the USA finished third with a score of 21.49.
A proud moment for all Canadians, and the perfect way for Canada to get on the board with their first gold medal.
You can watch the Medal Ceremony here.
Medal 4 - Figure skating: Team - Silver
Photo credit: Getty Images
The fourth medal for Canada came in the form of a silver medal via the first ever Figure Skating team event. The silver medal was secured by the fantastic duo of Scott Moir & Tessa Virtue. Also contributing to the win was the rest of Canada's figure skating team; Patrick Chan, Kevin Reynolds, Eric Radford, Dylan Moscovitch, Meagan Duhamel, Kristen Moore-Towers, and Kaetlyn Osmond. Canada is expected to grab a few more medals in the individual figure skating events, with a hope for Canada's first gold in men's figure skating from Patrick Chan. 1st place went to the Russians, and third place went to the Americans.
Medal 5 - Short track speed skating: Men's 1500m - Gold
Charles Hamelin of Sainte-Julie, Quebec continues to strike gold for Canada, winning his third gold medal at the Olympics, and fourth medal overall with a victory in the men's 1500m speed skate. With several events remaining for Hamelin, he has a chance to become the most decorated Olympic athlete in Canada' history. His brother Francois finished second in his heat and didn't qualify for the final, so there was no brother act on the podium to match the Dufour-Lapointe sisters, however his girlfriend Marianne St-Gelais did qualify for the finals in her event, where she is a medal favourite.
Medals 6 & 7 - Freestyle skiing: 
Men's M
oguls - Gold & silver
Once again Alexandre Bilodeau struck gold in the men's moguls event, accomplishing the rare back-to-back gold medal feat at the Olympics. His teammate Mikael Kingsburg finished second, and fellow Canadian Marc-Antoine Gagnon finished fourth, a few points away from a Canadian sweep.
The win by Bilodeau meant we all got to share another fantastic moment involving the celebration with his brother Frederick, who suffers from cerebral-palsy. It also cemented Canada's great start to these Olympic Games.
Medals 8 & 9 - Freestyle skiing: Women's slopestyle - Gold & bronze
In the debut of a new event, Canadians Dara Howell and Kim Lamarre took gold and bronze. Howell and Lamarre were ranked 1 and 2 after the qualifying round, but American Logan Devin had a fantastic final run that propelled her into silver. Dowell's gold medal run was far and away the best run of the day, scoring a 94.20, besting her qualifying run of 88.80. The best run anyone other than Dara Howell put up today was 85.40, showing how completely dominant she is. 19 year old Dara Howell is from Huntsville, Ontario, and has brought home a 4th gold for Canada.
Medal 10 - Long track speed skating: Men's 1000m - Silver
Photo credit: Getty Images
After Gil Junio gave his spot to Denny Morrison for the finals of the 1000M race, Denny did not disappoint. He failed to take gold by .04 seconds, however he managed to secure a silver medal in the race of his career, and his first individual medal of the Olympic Games. The Dutch secured gold (big shocker!), however Denny was not expected to medal, which makes it a great story for Canadian speed skating. Gilmore Junio won't be going home with a medal in this event, but his act of selflessness won't soon be forgotten.
Medal 11 - Figure skating: Men's - Silver
Patrick Chan was the heavy gold favourite coming into the Olympics, winning several World Championships in a row, but it was Japanese skater Yuzuru Hanyu, ironically coached by Canadian Brian Orser, who took gold. Hanyu set a world record in the short program, which put the pressure on Chan to outdo him in the free skate, and although Hanyu fell twice and stumbled several other times, Chan also had several mistakes in his skate, even if they were less severe. In the end Hanyu got more love from the judges, and Chan couldn't overcome the gap set by the short program. Canada remains without a goal in men's figure skating, settling once more for silver.
Medal 12 - Long track speed skating: Men's 1500m - Bronze
Once again Denny Morrison has come out of nowhere to win a medal for Canada. With yet another ridiculous performance Morrison edged out a bunch of medal favourite to finish third in the men's 1500m and win a bronze medal. Morrison now has two medals in Sochi, which is a feel good story for a guy who was just expected to compete. Morrison commented after the race that the important thing for him is to not fall into the usual start slow and burst out with speed at the end, because that's not his style. He likes to start fast and hang on, and that's just what he did.
Medal 13 - Alpine skiing: Men's super G - Bronze
In an event that Canada rarely pays attention to due to a lack of success, Jan Hudec put up a surprise performance and tied American Bode Miller for third place, winning a bronze medal for Canada. The bronze medal was Canada's first in Alpine skiing in 20 years. Hudec buried a looney at the finish line for good luck, which has becoming yet another feel good story Hudec is considered the 7th ranked alpine skier in the world, and was skiing with a herniated disc in his back.
Medal 14 - Snowboarding: Snowboard cross - Silver
After the defending Canadian gold medalist Maelle Ricker fell in the qualifying round, only one Canadian remained in the Snowboard cross race. Fortunately Dominique Maltais was up to the challenge, fighting back from third place for a large portion of the race to take second and win Canada a silver medal.
Medal 15 - Figure skating: Ice dancing - Silver
Photo credit: Getty Images
Highly anticipated to repeat their performance from the 2010 Winter Olympics in Vancouver, Tessa Virtue and Scott Moir once again captured the hearts of Canadians with a fantastic free skate that set a new world record score. Sitting in second place after the short program, Virtue and Moir needed to outskate the top ranked Americans in order to capture the gold, but in spite of setting a world record, and silencing the entire crowd with a breathtaking routine, the American team topped them once more.
Medal 16 - Short track speed skating: Women's team 3000m - Silver
With disappointment after disappointment leading into the women's team event in short track speed skating, an emotional Christine Nesbitt after her last individual race talked about how difficult it is to refocus and compete again, but that she was confident in the women on the team and knew they would compete. She was right, as Marianne St-Gelais, Marie-Eve Drolet, Valerie Maltais, Jessica Hewitt, and Jessica Greg combined for a silver medal, finishing just behind the South Koreans. Technically Canada finished behind the Chinese team as well, but they were disqualified for breaking the rules.
Medal 17 - Freestyle skiing: Men's halfpipe - Silver
Photo credit: Getty Images
In a slightly unexpected turn of events, Canadian Mike Riddle took the silver medal today in the men's halfpipe competition in freestyle skiing. Riddle struggled in his first run on the halfpipe, but put it together in a big way to jump from 6th to 2nd place after the qualifying runs. Canadian Noah Bowman also had a nice improvement, going from 7th to 5th in the final run. The big disappointment for Canada was Justin Dorey, whose qualifying run was good enough for a silver medal in the final run, but he took a fall instead. Canada just missed out on silver and bronze in the event.
Medal 18 - Bobsleigh: Women's doubles - Gold
After finishing behind the Americans in the first two heats, Canadians Heather Moyse and Kaillie Humphries put together 2 magnificent runs to earn a gold medal in the two man bobsleigh event. They narrowly edged out two teams from the United States in their come from behind victory, and by doing so put to an end the multiple day gold medal drought Canada was suffering. This was the second gold medal for the team, as they were the defending champions from the Vancouver Games in 2010.
Medal 19 - Curling: Women's tournament - Gold
Photo credit: Getty Images
After Canada broke their gold drought yesterday in women's bobsled, Jennifer Jones' curling team continued to add to the total with a second gold in as many days. Jones' team performance was nothing short of dominant at the Olympics, sweeping the competition and defeating Sweden 6-3 in the final matchup. Jones' team is the first Canadian women's team since the late Sandra Schmirler to win Olympic gold, way back in Nagano in 1998. Jones' performance in Sochi is one for the ages.
Medal 20 - Ice Hockey: Women's tournament - Gold
Photo credit: Getty Images
Going into the third period against the United States, Canada began the third period by taking an undisciplined penalty, and being scored on once again on the ensuing powerplay. A fantastic defensive period by the USA had all hope lost, until Brianne Jenner finally broke through for a lucky goal with 3 minutes remaining. With a one goal deficit to work against, it would be Marie-Philip Poulin who tied the game in the dying seconds, then scoring again in overtime to complete the comeback. Poulin's second straight golden goal puts her in a category of her own when it comes to clutch.
Medals 21 & 22 - Freestyle skiing: Women's ski cross - Gold & silver
After that long gold drought, Canada has begun to strike gold daily, even multiple times a day. In the last 48 hours, Canada has doubled their gold medals after Marielle Thompson has taken gold in women's ski cross, and added a silver medal as well with Kelsey Serwa taking second place. The two British Columbian women left their competition in the dust today.
Medal 23 - Curling: Men's tournament - Gold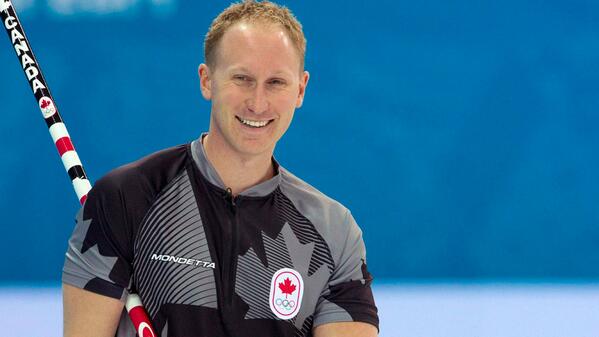 Photo credit: Getty Images
Canda's fantastic day at the Olympics continued, as Brad Jacobs led his team to Olympic glory by defeating Great Britain by a score of 9-3. This completes the curling gold sweep for Canada, and puts them firmly in second place on the Olympic medal count. This is the third year in a row that Canada has won gold in the men's tournament. The game itself was never in doubt, as Canada took an early 2-0 lead with the hammer in the first end.
Medal 24 - Short track speed skating: Men's 500m - Bronze
Photo credit: Getty Images
With Charles Hamelin out of the competition after an unfortunate fall, Canada's medal hopes in short track speed skating were slim to say the least. Luckily, Charle Cournoyer, a 22 year old from Longueuil, had the skate of his life to take the bronze medal for Canada. Cournoyer finished just one tenth of a second behind China's Wu Dajing, and three tenths of a second behind Russia's insanely dominant Victor An.
Medal 25 - Ice hockey: Men's tournament - Gold
Photo credit: Getty Images
The most dominant Canadian team ever? It's a question that will be on the minds of many after watching Team Canada give up just three goals in six games and never trail for a second during a tournament where they outshot their opponents by essentially double. Team Canada, led by Carey Price, shutout both the United States and Sweden en route to a second straight gold medal. If feels good.